03.19.2014 | 8:48 pm
I wanted to say a huge thank you to the 165 people that have joined Elden and me in our quest to lose weight. The last few weeks have definitely been a challenge for me! Whether you have a lot of weight to lose or just a few pounds I want to thank you for making the commitment with Beeminder to publically acknowledge your weight loss goals.
Not only are we making a difference in our lives, but we are also impacting young girls in Africa! What an awesome thing: a situation where everyone can win…by losing! As a result of the $19.95 the 167 of us each donated when we began this challenge, we have raised enough money to buy 24 bikes. So, even by just starting something good for ourselves, we have essentially already changed the lives of 24 young ladies in Zambia. Talk about win-win!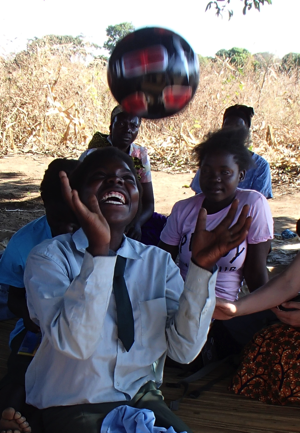 This happy young lady is Emily. We met Emily when we traveled to Zambia with World Bicycle Relief. She was one of the teenage girls fortunate to receive a bike through the efforts of WBR.
Emily and her new bike can now make the six-mile round trip to and from school in a quarter of the time it takes to walk. This allows her more time to study and take care of the chores around her home. Your small sacrifice of a few dollars to join our weight loss contest will have an impact on a young girl a half a world a way. I cannot say Thank You enough!
I'm also excited about our weight loss potential as a group of Fat Cyclist Fans! Losing weight is not easy, and knowing that 165 people are suffering right along with me is a comfort! The end result of our weight loss struggle will be worth it in the end–at least that is what I keep telling myself! I'm hoping to come away a little faster for my racing endeavors this summer.
I'm curious why you decided to join Elden, Beeminder, and me in our weight loss contest. I would love to read about it in the comment section.
And If you have any good low calorie/low carb recipes I would love to have them.
You see, Elden is out of town this week and I have temporarily taken control of his blog. It's our secret. Lets see how long I can go before he finds out.
– See more at: http://www.fatcyclist.com/#sthash.saYv2RVG.dpuf